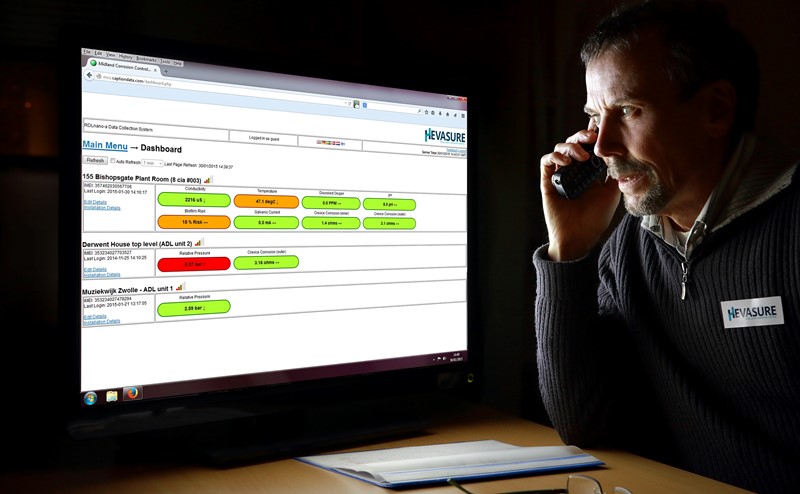 The evolution of water monitoring
Hevasure is a constantly evolving technology; since its launch in 2015 we have refined and improved its capabilities, introducing the G2 version in 2017, which features a high-end data acquisition system, improved data security and key event logging.
Our mission is to consign corrosion and corrosion-caused damage in HVAC systems to history by proactively monitoring the conditions that cause corrosion, flagging up issues before they become big problems. A system not monitored by Hevasure is more likely to undergo expensive repairs, breakdown and downtime – problems that can run into the millions of pounds in large commercial buildings. It is because of this mission that Hevasure continues to evolve. We are committed to continually improving the technology so it better meets the needs of our customers and fits with the other monitoring systems already present in modern buildings.
The development of Hevasure
While working as a consultant with Midland Corrosion Services, I carried out a large numbers of failure investigations on commercial systems and realised that it should be possible to measure the critical parameters that lead to these failures remotely using data loggers and sensors. Hevasure was developed from the best technologies available at the time and trialled in our test facilities and on a number of client sites, including Addenbrookes Hospital and a district heating scheme in the Netherlands.
Since then, Hevasure has continued to be refined. We have developed new sensors and enhanced its integration and ease of installation. The latest version, G2, uses a state-of-the-art data acquisition system that can access information from a large number of digital and analogue sensors. Features include:
A local touch screen
Improved data security
Wide range of data from high quality sensors utilising Modbus technology
Improved dashboard, allowing clients to view data in different formats
Key events logged (planned and unplanned)
Critical conditions monitored every 15 minutes to ensure corrosion prevention
The future of Hevasure
G2 isn't the end, however. The Hevasure R&D team is currently looking at how Hevasure can link with a BMS, to provide a total picture of building operations and provide meaningful and immediate messages to the engineering teams. This would lead to more efficient operations building-wide.
Other planned developments include:
Interfacing to auto-dosing pumps
Inputs from remote wireless powered sensors
New dashboard for pre-commissioning cleaning
Options for energy monitoring
If every water system used Hevasure from pre-commissioning cleaning onwards, vast amounts would be saved industry-wide. Unnecessary sampling and the consequent waiting for results would be minimised, the over-use of chemicals and flushing when it's not necessarily needed, and corrosion issues would be prevented and far better understood. With the issue of corrosion removed, specifiers will feel more comfortable recommending lightweight and cost-effective pipework, such as thin walled carbon steel, adding further to the cost savings.
Overall, water system management would be a more efficient and sustainable, with control firmly in the hands of building managers and end users. Importantly, the risk of downtime would be dramatically reduced, of particular concern to essential infrastructure, and litigation could hopefully become a thing of the past.