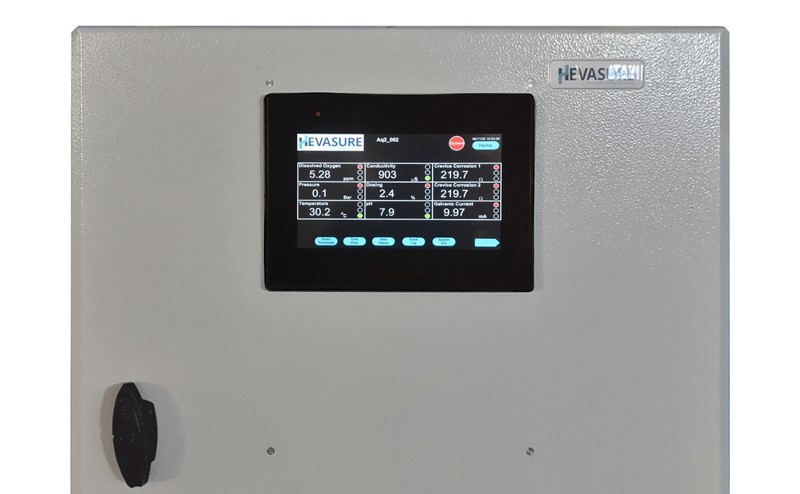 Hevasure launches the Aquila-2 real-time monitoring product range
Introducing the Aquila-2 product range, which brings significant improvements to Hevasure's award-winning water and corrosion monitoring technology. Enhancements have been implemented from the ground-up with particular attention to quality, usability, maintenance and future needs. New features include an interactive display and the addition of more versatile model, Aquila-2+.
The interactive display comes as standard across the Aquila range, enabling users to view real-time information and change configurations onsite. Remotely, the Aquila-2c model, utilises cloud-based data storage and a dashboard reporting tool for access from any internet enabled device. The Aquila-2s model has been specifically developed for secure environments where internet communication is forbidden. In this instance, data processing is done locally and data, alarms and messaging is made available to a BMS via a BACnet interface.   
New model, Aquila-2+ incorporates the benefits of both 2c and 2s, allowing remote access to data as well as connection to a BMS. 
The Aquila units have also been streamlined, with electronic controls neatly encased in the door together with the local screen. The fully integrated monitoring station is simple to install requiring only mains power, connection into the flow and return pipework, and, in the case of 2c and 2+ models, internet access via inbuilt GSM or Wi-Fi. Aquila can be fitted to new closed-loop water systems or retrofitted to existing installations.
Steve Munn, MD for Hevasure, said: "Since Hevasure's remote-monitoring technology was bought to the market in 2014, we have strived to develop and improve our offering, continuously evolving our products to meet the needs of building owners, maintenance teams and facilities managers. The latest developments to the Aquila range make things far easier for on-site review and configuration, matching the intuitive user-focussed remote access dashboard.
"Remote-monitoring is fast becoming industry best-practice for closed-systems, preventing corrosion and the associated cost of repairs and breakdown."
Real-time monitoring throughout the life of a system
Real-time monitoring is applicable throughout the life of a system – from pre-commission cleaning through to day-to-day operations and maintenance.
Hevasure's solutions are the most comprehensive water and corrosion monitoring on the market. Incorporating a wide range of high quality sensors, connected to a sophisticated data acquisition system, water characteristics and corrosion rates are remotely monitored in order to detect adverse conditions that could lead to corrosion damage, alerting users if intervention is required.
Hevasure Aquila-2 monitors:
Dissolved oxygen
Make-up water flow
Pressure
Temperature
Conductivity / chemical dosing level
pH
Galvanic currents (related to corrosion rate of steel)
Crevice corrosion
For more information about Hevasure's Aquila-2 range, click here.