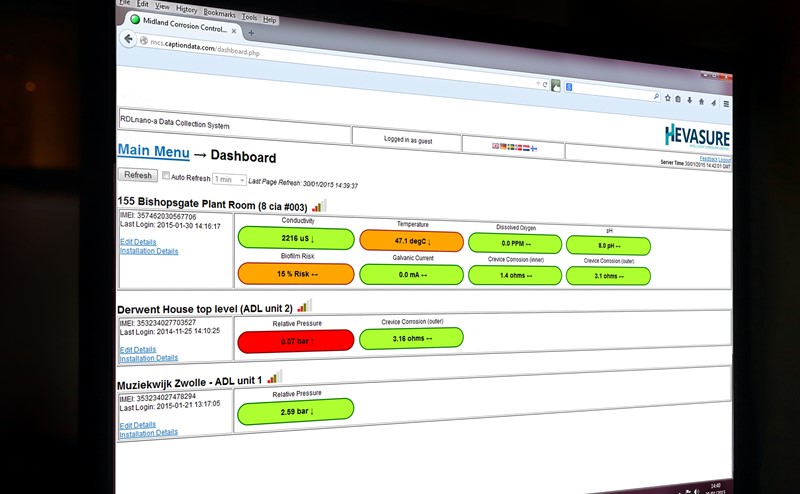 BSRIA BG50:2021 – recognising the role of real-time monitoring in water treatment
The latest edition of BSRIA BG50 Water Treatment for Closed Heating and Cooling Systems was launched at the beginning of November, including new recommendations in relation to real-time water system monitoring. As developers of the UK's most comprehensive closed-system water monitoring technology, we are very pleased with the updates, which acknowledge how far this industry has moved on since the last edition of BG50 in 2013.
Over the past eight years, our understanding of corrosion and the conditions that are precursors to its presence has evolved, thanks to the development of technology that better detects these conditions. BG50:2021 includes information about the latest real-time monitoring systems and recognises the shortcomings of the more traditional means of checking water condition.
In section 2.10 Real-time monitoring of system parameters, BG50 says: "Analysis of system water quality provides useful information about the concentration and performance of corrosion inhibitors and biocides but only gives a partial picture of the overall condition of the system and the extent to which corrosion is taking place. Furthermore, corrosion coupons without electric monitoring do not show sudden changes in corrosion conditions that can be linked to specific events and actions."
The guide then goes on to recommend monitoring and interpreting selected system parameters in real-time to provide advance warning and diagnosis of problems, with information sent electronically to the maintenance team, thereby facilitating remedial investigation and action. For the FM companies responsible for these water systems, this is a first line of defence that can lead to better maintenance practices, reduced interventions and improved running costs, providing time and financial savings across the board.
While periodic water sampling is still required, BG50:2021 states that where real-time monitoring is employed, the frequency of this process may be reduced. The guide also suggests that monitoring can be used to plot trends, providing an early alert to changes in the system. 
Leading the real-time monitoring charge
Since our incorporation in 2014, Hevasure has been at the forefront of this field; our primary focus has been developing and supplying real-time condition monitoring technology aimed at preventing corrosion damage to LTHW and CHW systems.
Now installed in over 60 buildings, including mission critical data centres, hospitals and some of London's iconic commercial hubs, Hevasure's remote monitoring systems are making a significant contribution to improving the operational efficiency of the UK's large-scale HVAC. With the launch of the new BSRIA BG50, we hope that more FMs, building owners and maintenance teams take notice of the benefits.
BSRIA BG50 can be purchased, here.