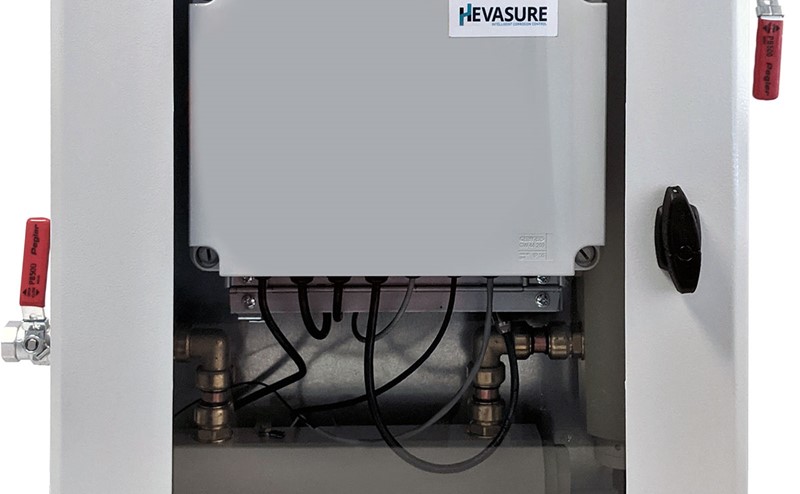 Hevasure launches three water and corrosion monitoring products
We have strengthened our offering with three separate water and corrosion monitoring products that track the condition of closed-circuit water-based HVAC systems.
Whole-life water monitoring, from precommission cleaning onwards, is delivered by the Aquila range, including a specialist BAC Net enabled unit for high security locations such as data centres. Condor is the corrosion focussed solution, designed for smaller sites and secondary closed-circuit systems.
The most comprehensive water and corrosion monitoring technology for closed-circuit HVAC systems on the market, Hevasure's fully-integrated systems incorporate a wide range of high quality sensors, connected to a sophisticated data acquisition system. Water characteristics and corrosion rates are remotely monitored in order to detect adverse conditions that could lead to corrosion damage, alerting users if intervention is required.
The Hevasure Aquila range provides full water monitoring, detecting the parameters that signify corrosive conditions at all stages of a HVAC system's life – from precommission cleaning to handover and beyond. Parameters checked for include dissolved oxygen, chemical dosing levels, make-up water flow, pressure and pH.
Hevasure Aquila: The standard Aquila unit includes cloud connectivity, with real-time data accessible via a sophisticated dashboard viewable on laptops and mobile devices. Alerts are sent direct to users via SMS or text message.
Hevasure Aquila-s: BacNet enabled, Aquila-s allows direct connection to a BMS system with pre-set alarms and intelligent messages, designed for high security locations where external transmission to the cloud is prohibited.
Hevasure Condor focuses on detecting corrosion, with parameters covered including galvanic currents, crevice corrosion and pitting attacks on steel and copper.  As with the Aquila device, real-time data is transmitted to the cloud where users have dashboard access via laptops and mobile devices, backed-up by automatic alarming of issues.
Steve Munn, MD for Hevasure, said: "By creating three versions of Hevasure's 24/7 data acquisition technology, we can now better service different types of customers, from large commercial buildings requiring a complete picture of water condition – of benefit to specifiers, M&E contractors, building owners and FMs; to smaller systems, where those responsible need a cost-effective early warning system for corrosion, preventing the extremely expensive damage this can cause.
"By installing our award-winning technology our customers can be confident that their closed water systems are constantly being monitored for adverse conditions and corrosion; intelligent corrosion control that will ensure these systems breakdown less, work more efficiently and last longer."
Hevasure designs and manufactures its range of corrosion monitoring technology, with specification, installation and ongoing support provided by its exclusive partners – Guardian Water Treatment, Ashford Environmental and BMS Consulting. 
Hevasure Aquila monitors:
Dissolved oxygen
Make-up water flow
Pressure
Temperature
Conductivity / chemical dosing level
pH
Galvanic currents (related to corrosion rate of steel)
Crevice corrosion
Hevasure Condor monitors:
Galvanic currents (converted to general corrosion rate of steel)
Crevice corrosion of steel and copper
Pitting attack on steel, copper
Temperature
Pressure (optional extra)
Find out more about Hevasure's technology, here.