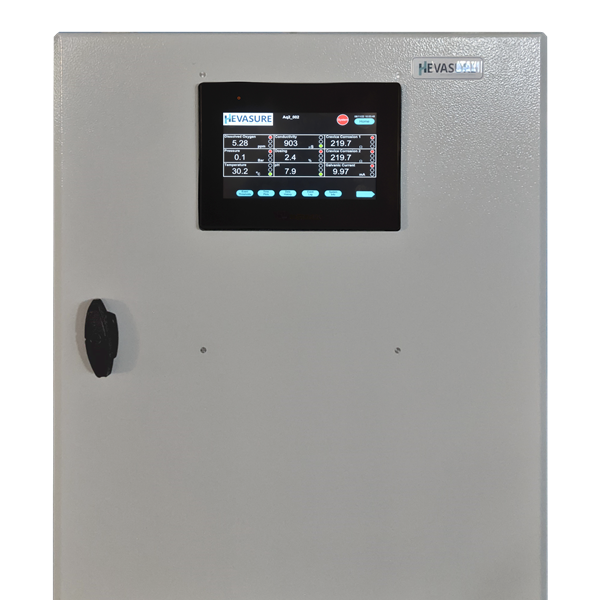 Advanced water monitoring technology for closed-circuit systems
The Hevasure Aquila-2 range is our flagship water monitoring technology, protecting closed water-based HVAC systems from damage and degradation by continuously and remotely monitoring conditions that can be indicative of corrosion.
Our fully integrated system incorporates a wide range of high-quality sensors connected to a sophisticated data acquisition system, as well as an interactive display, enabling users to view real-time information and change configurations onsite. 
Parameters we monitor include:
Dissolved oxygen
Make-up water flow
Pressure
Temperature
Conductivity / chemical dosing level
pH
Galvanic currents (related to corrosion rate of steel)
Crevice corrosion
Any event, whether planned or unplanned (such as leaks or loss of pressure), can be flagged on the inbuilt charts, allowing maintenance teams to keep electronic records all in one place.
Hevasure Aquila-2 can be used throughout a water system's life – during precommission cleaning, at the point of handover and beyond. It can also be used to provide a one-off health check to identify the cause of a specific issue.
The early detection of adverse conditions will ensure system health, prevent repairs and breakdown, and allow maintenance activities to be scheduled before any significant damage occurs to the system.
Hevasure Aquila-2c
Hevasure Aquila-2c uses cloud-based data storage together with a sophisticated dashboard and reporting tool to provide real-time information about a system, easily accessible via any internet enabled device. Alerts are sent to responsible parties if conditions change, allowing problems to be quickly identified.
The fully integrated monitoring station is simple to install requiring only mains power and connection into the flow and return pipework. It can be fitted to new systems or retrofitted to existing ones.
Hevasure Aquila-2s
Hevasure Aquila-2s has been specifically developed for secure environments where 'cloud' and internet communication is forbidden. Instead, all data processing is done locally and data, alarms and messaging is made available to a BMS via a BACnet interface.
An ethernet link to the building LAN and configuration to the BMS display is required as part of the installation.
Hevasure Aquila-2+
Hevasure Aquila-2+ incorporates the benefits of both 2c and 2s, allowing remote access to data as well as connection to a BMS. 
All data, alarms, and messaging is made available remotely to the interactive dashboard and BMS via a BACnet interface. The local interactive touch-screen display enables users to view real-time data and change configurations.